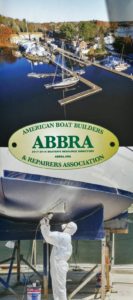 Whether you're searching for a yard you can trust with a major refit, or cruising and need a quick repair by a competent mechanic or rigger, the ABBRA Resource Directory is your go-to guide for finding the most competent and best-trained technicians in the recreational marine industry.
In this guide, you will find the finest boat builders, refit and repair yards, marine service facilities, marine product manufacturers, marine suppliers, state marine trades organizations, and many others who share our mission to supply boat owners with high-quality services and products that help them enjoy their boats with family and friends.
Why is the American Boat Builders & Repairers Association (ABBRA) Boaters Guide important to boat owners? Because it takes the guesswork out of choosing a repair, service or boat building yard. You can rest assured that ABBRA members all have the same high standards. Integrity, professionalism, high-quality repair work, and a desire to satisfy the customer are the hallmark of an ABBRA boatyard. ABBRA promotes training and teambuilding which leads to good customer care.
ABBRA is much more than an organization, it's a strong supportive network of business owners and operators who stay informed regarding best business practices and repair techniques. We feel it's important to share information that allows us to keep up with changes in boat design, materials, and products. ABBRA yards understand the importance of safety standards and repair their customers' boats based on the US safety standard developed by the American Boat and Yacht Council (ABYC).
To access the online version of the directory, please click the photo above.
If you are not an ABBRA member but would like a copy, please email [email protected]