Registration is open for an in person MSM in Newport, RI-February 19-23, 2023! 
The Marine Service Manager course is a 4-day training course designed for individuals working in management or leadership roles in today's boat building, refit, repair and service facilities. Participants will gain new insights from ABBRA's seasoned instructors and peers on issues and challenges common throughout the industry. Attendees will establish a strong and lasting network of contacts in the industry from facilities around the country.
Dates: February 19th-23rd, 2023
ABBRA Members-$2,195
Non-Members-$2,495
Students will be invoiced upon registration
What's included in the cost of course registration:
Tuition for the length of the course
All course materials
Morning and afternoon coffee breaks and lunch each day
One group dinner
Participation in the Boatyard Study Tour
These critical topics will be covered in the class and participants will have the opportunity to interact with the instructors and each other as they work through the program.
Professional Development/Time Management-Tim Shields, Hinckley Yachts
Human Resources and Team Building-Shirley Adams, Adams & Assoc.
Safety, Health, and Emergency Response-Kellie Crete, Gowrie Group
Financial Management-John Fitzgerald, Saunders Yachtworks
Maritime Law-Dennis Nixon, The University of Rhode Island
Marketing-TBD
In addition to the lectures and interactive discussions, attendees will participate in a virtual boatyard study tour, where they will apply their newly gained insights to identifying problems, advising on improvements and proposing corrective measures and modifications based on their observations.

Course Descriptions
Personal Development and Time Management for Boatyard Managers:
Participants will become familiar with the soft skills that are critical to running a successful operation. The module covers self-motivation, team building, communication skills, planning, decision making, problem-solving and time management.
Human Resource Management in the Marine Industry:
This module will address potential HR issues, valuing differences, and take a closer look at building productive teams and other factors that result in providing the quality product your customer deserves.
Leadership in Boatyard Health, Safety, and Emergency Response:
Environmental, health & safety regulations have become even more important than in recent years for businesses engaged in boat building, refit, repair, and service. While regulations are a good starting point for a successful program, paperwork, training, accountability and basic site safety will ensure that you are inspection-ready. During this portion of the course, we will give you the tools necessary to properly and effectively manage your environmental, health and safety programs.
Understanding General Maritime Law Concepts for the Boatyard Operator:
Legal considerations and the anticipation of legal entanglements are an everyday part of marine service operations, and the competencies gained in this area will affect a service facility's bottom line. The course will focus on how the service manager can direct operations to minimize the potential for legal conflicts in the context of work quality, safety, and profitability. We will identify steps to rectify situations that can lead to expensive losses.
Financial Management, Profits, and Job Estimating:
Estimating is often considered the most difficult part of a service manager's job. This module will address the difference between an estimate and a quote, appropriate use of time and materials, fixed prices and how to handle change orders. From initial work order to final payment, this session will cover the phases of managing a work order, seeing to its successful completion, on time, and reflecting quality workmanship at a fair price.
Marketing:
The marketing session will focus on the basics of branding, marketing, and sales for marine service companies, especially online and social media marketing. It will dive into marketing strategy and participants will get involved in defining the marketing mix for their own companies. The group will explore various marketing options available for marine service providers and look into the cost/benefit of these activities.
™Marine Service Manager Course, Certified Marine Service Manager Program, Certified Marine Service Manager and CMSM are trademarks of The American Boat Builders & Repairers Association.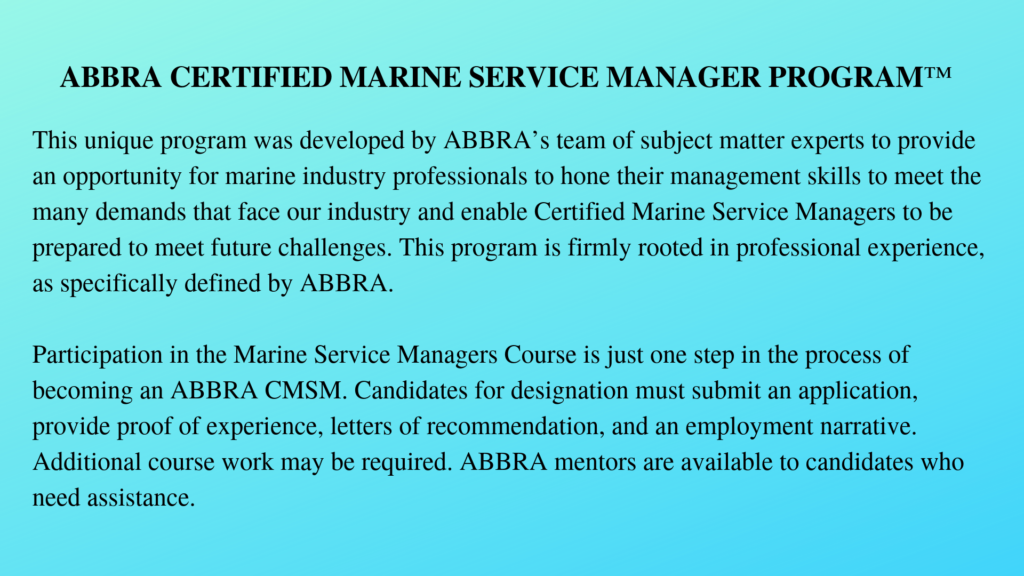 ™Marine Service Manager Course, Certified Marine Service Manager Program, Certified Marine Service Manager and CMSM are trademarks of The American Boat Builders & Repairers Association.