American Boat Builders and Repairers Association Awards Categories
It is your chance to recognize our peers and colleagues for their outstanding service to the industry. This year's categories include:
President's Award – awarded to a person who has made a significant and lasting contribution to the boat building and repair industry in the United States.
Boatyard  of  the  Year  –  ABBRA's Boatyard of the Year award is given to the boatyard facility that demonstrates excellence in all facets of their company through commitment to customer service, quality workmanship, best business practices, industry standards, professionalism, workforce development, and positive vendor  relations.
Boat  Builder  of  the  Year – ABBRA recognizes the boat building facility that through its  commitment to innovation, sound engineering, quality workmanship, teamwork, and professional project management, has built a vessel that has been successfully launched and recognized as a significant contribution to the recreational yachting industry. Whose process and product have made a lasting contribution to the recreational marine industry.
Please click the button below and download the form to submit!

The awards will be given at our annual conference Opening Reception on Sunday, January 29, 2023. ABBRA's Annual Conference will follow at the Ocean Center in Daytona Beach, FL. January 30 – February 1, 2023. This two-day event includes boatyard and service specific content, industry networking and access to the first day of the Association of Marina Industries Conference & Expo (formerly IMBC). To register for the conference click HERE.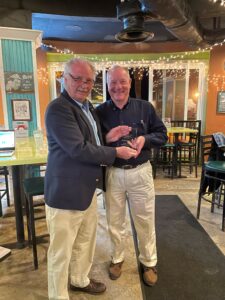 History of Winners-
President's Award-
| | |
| --- | --- |
| 2016 | Michael Keyworth |
| 2018 | John Adey |
| 2019 | John Gambino |
| 2020 | Richard Downs-Honey |
Boat Builder of the Year-
| | |
| --- | --- |
| 2016 | Hodgdon Yachts ( 200 year anniversary) |
| 2017 | Gold Coast Yachts |
| 2018 | Ranger Tug |
| 2019 | Huckins Yachts |
| 2020 | Aaron Crawford/Sabre Yachts |
Boatyard of the Year-
| | |
| --- | --- |
| 2016 | Hodgdon Yachts |
| 2017 | Kittery Point Yacht Yard |
| 2018 | Hinckley Yacht Services Portsmouth RI |
| 2019 | Camachee Yacht Yard |
| 2020 | KKMI Richmond PT. California-Paul Kaplan |