Gold Coast Yachts, of St Croix USVI, Kittery Point Yacht Yard of Kittery Maine, and Susan Swanton, of Biddeford Maine, were honored at ABBRA's Annual Award Ceremony on January 24th.
ABBRA's Boat Builder of the Year award was presented to Gold Coast Yachts, a boat building facility whose building process and product has made a lasting contribution to the recreational marine industry. The Boatyard of the Year award was given to Kittery Point Yacht Yard for demonstrating excellence in all facets of their company. Susan Swanton was awarded ABBRA's prestigious President's Award for making a significant and lasting contribution to the Boat Building and Repair industry.
Boat Builder of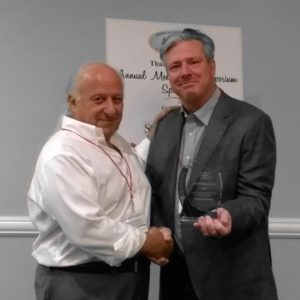 the Year award was presented to Gold Coast Yachts. The 120 plus multihulls built by Gold Coast Yachts reflect the experience gained from over 31 years of vessel construction. Today Gold Coast yachts can be found worldwide. The company patented a unique wave piercing designed power cat in 1992 and most recently pioneered a new carbon fiber manufacturing process for custom vessel production. The firm is known for their leading-edge design and build techniques and for producing catamarans that are efficient in both construction and sailing performance. Their latest build is a 104-ft. carbon fiber tandem cat, weighing 30,000 lbs. Gold Coast's success is the result of their passion for boatbuilding and the drive to discover what makes a better boat, and what doesn't, based on sound engineering and a great deal of research. Rich Difede, Gold Coast Yachts' founder and president, has put his heart and soul into boat building and developing a highly skilled workforce, expected to perform under difficult conditions and has put together a well-respected design and engineering team.
ABBRA's 2017 Boatyard of the Year Award was given to Kittery Point Yacht Yard for demonstrating excellence in all facets of their company, through commitment to customer care, quality wor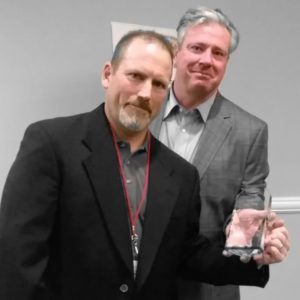 kmanship, best business practices, industry standards, professionalism, workforce development, and positive vendor relations. Tom Allen purchased the reputable Dion's Yacht Yard in Kittery Maine in 2004 and renamed it Kittery Point Yacht (KPYY). In 2007, he acquired Patten's Yacht Yard the only other full service waterfront yard in the area. In 2008, Mr. Allen and Mr. Patten began building their own line of proprietary power boats at KPYY's Elliot facility. Tom Allen is highly regarded in the industry for the many improvements he has made to the facilities, the thoughtful and forward thinking approaches he has taken to management, his collaborative nature, respect for em
ployees and customers, and his dedication to the industry as a whole. KPPY's mission is to inspire a shared vision of excellence in their team. Their culture is defined by the values of teamwork and unmatched workmanship, while creating long term customer relationships. They demonstrate care for their facilities, the environment and their communities with a focus on preserving the working waterfront. They strive to exceed industry standards and to be recognized as one of the industry's finest.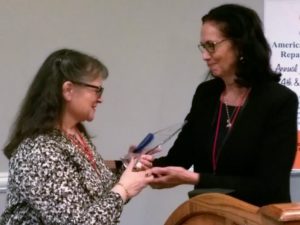 The President's Award was presented to Susan Swanton for her significant and lasting contribution to the boat building and repair industry. This prestigious annual award has been given to industry greats such Bill Yeargin, Frank Herhold, Neil Ross, Dennis Nixon, Jack Brewer, Steve Kitchin, Carl Cramer, Jim Bronstein, Bill Munger, Jonathan Jones, John Hall and Mike Keyworth. Like these previous recipients, Susan is highly respected throughout the industry. Her clarity of vision, understanding of the boatbuilding and repair industry, and advocacy has her in demand as a speaker at most national industry conferences and as an advisor to marine industry organizations and government agencies. She is tireless in her efforts to promote professionalism and integrity in the boatbuilding and repair industry. Susan began her career in 1979 as the Executive Director of Maine Marine Trades Association. She has had an impact in the state of Maine as a co-chair of a $14 million federal grant that turned around the marine industry in the State. She focuses on producing high quality, high demand incumbent worker training and has a national voice through the National Skills Coalition and Business Leaders United. Susan has partnered with ABBRA, and other state and national trade associations to provide quality programs to the industry. She is a pioneer in workforce development and legislative issues that affect boatbuilding and repair businesses.