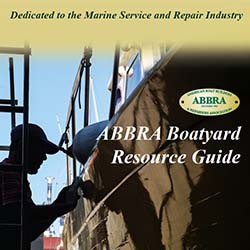 The American Boat Builders & Repairers Association (ABBRA) has released the much-anticipated popular publication: The Boatyard Resource Guide (formerly The Boatyard and Marina Operators Manual). The Guide, previously updated in 1987, has been thoroughly revamped and covers a variety of topics that are highly relevant to all of us working in the boat building and boatyard industry. It contains 51 full-color pages of ideas, best practices, and resources on a variety of subjects relevant to the skillful operation of a marine service and repair facility. The guide is a tool to further the educational and training portion of ABBRA's mission.
Topics of the Guide range from preparing a strategic plan, to severe storm and hurricane preparation, to an overview of environmental law. All articles are crafted in a way that allows the reader to tailor the material to fit the specific needs of their facility.
We are pleased to offer the Boatyard Resource Guide, 2022 edition for FREE to members ($300 value) and $250.00 for non-members. The guide will be delivered via electronic PDF.
To order the Boatyard Resource Guide please click HERE to fill out the order form and click the submit button.
To join ABBRA, please click HERE.
ABBRA's 2023 Annual Awards to be presented at the Opening Reception of our Annual Conference Sunday, January 29th in Daytona Beach, FL 
Cast your ballot in November! Stay tuned! This is your chance to recognize our peers and colleagues for their outstanding service to the industry.